PRO FOOTBALL HALL OF FAME ADDS SIGNED COPY OF FORGED IN STEEL
TO ITS RESEARCH AND PRESERVATION CENTER IN CANTON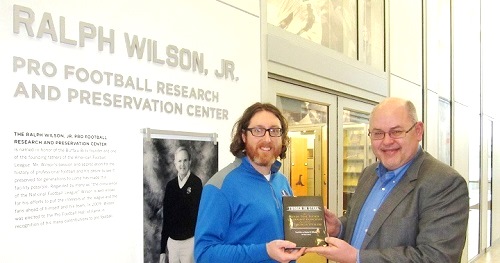 Pro Football Hall of Fame archivist Jon Kendle accepts a signed, first edition from Mark Miner, CEO of the book's publisher, Minerd.com Publishing, LLC
CANTON, OHIO - Jan. 4, 2016 -- In an effort to document enduring leadership values in the National Football League, the Pro Football Hall of Fame has added a new, signed book to its Ralph Wilson, Jr. Research and Preservation Center -- Forged in Steel: The Seven Time-Tested Leadership Principles Practiced By the Pittsburgh Steelers.
Authored by Tunch Ilkin of the Steelers and Damian Williams of Leadership League, the highly acclaimed Forged in Steel is intended to help readers, as leaders in their organizations, communities and family, to tap into the enduring truths behind the well-honed principles that make the Steelers great.
Opened in August 2012, the 10,000 sq. ft. Wilson Center houses and preserves more than 27 million document pages and 5 million photographic images in the Hall of Fame's collection. The center also includes a video conferencing lab designed to connect schools and students from around the country to the educational assets of the hall, including live interaction with hall members; a rare books room and a researcher's reading room.
The center is named in honor of the founder of the Buffalo Bills and a co-founder of the American Football League. Wilson's passion and appreciation for the history of pro football and his desire to see it preserved for generations to come has made this facility possible. Regarded by many as "the conscience" of the NFL, he was well known for his efforts to put the interests of the league and the fans ahead of himself and his team. Wilson was inducted into the hall in 2009.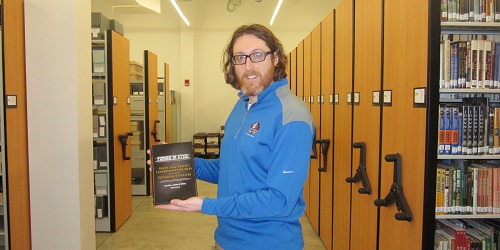 Hall of Fame archivist Kendle in the stacks of the Ralph Wilson Jr. Research & Preservation Center