THE STEELERS' WAY OF "STRATEGIC TEAM MAKING" HIGHLIGHTS LEADERS SERVING BEAVER COUNTY WORKSHOP LED BY DR. DIANE GALBRAITH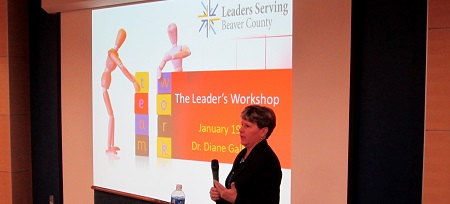 What does a winning team look like? How do you develop one? How do you pick the right people? And how have the Pittsburgh Steelers mastered this process and field competitive teams year after year after year?
"Strategic Team Making" was the topic of Dr. Diane Galbraith's Leaders Serving Beaver County workshop featuring chapter 4 of Forged in Steel: The Seven Time-Tested Leadership Principles Practiced By the Pittsburgh Steelers. The breakfast meeting was held Jan. 19, 2017 at the Lodge at Penn State Beaver campus.
Co-authored by Tunch Ilkin of the Steelers and Damian Williams of Leadership League, Forged in Steel is a widely praised analysis of the Steelers' way of leadership. Chapter 4 explains why the Steelers know how to develop a plan for success and are crystal clear about it organization-wide.
When we visit the Steelers home offices, we experience the environment of family. We do not feel a sense that we are in a multi-million dollar company, but instead the warmth and friendliness that is typical of the Rooneys. We find people involved in genuine and caring exchanges, even occasionally hugging one another as they pass in the halls. When there, it is as if we are in small town America, where people really feel affection for each other.
The Steelers front office is like family. As the league has become bigger business, the Steelers have preserved that culture. As an example, during the years when the Steelers played in the Super Bowl, all their employees and their spouses, from the front office to the grounds crews, were brought to the game and treated as part of the team.
Daniel M. Rooney, the team president, once said that "The biggest thing my father passed on to me, and I hope we've continued it, is to treat people right. We treat our players as family, not workers. We're concerned for them away from the field ...whatever problems they face. My father always had a relationship with the players, and I've tried to do the same."
Dr. Galbraith is an associate professor at Slippery Rock University and taught LSBC's October class about the Steelers' way of contagious humility. She serves as the management lead in the university's Business Department, teaching, coaching and advising traditional undergraduate and MBA students in a classroom setting. She also instructs on-line classes in a distance learning environment. She is a board member of the Valley Points YMCA.
2017 Schedule
At the Lodge at Penn State University's Beaver Campus - see map

January 19 - Strategic Team Making - Dr. Galbraith

February 16 - Passionate Execution - Dr. Stanko

March 16 - Continuous Improvement - Dr. Dittmar

April 20 - Mental Toughness - Dr. Stanko
Questions About Leaders Serving Beaver County: Contact Dr. Jim Dittmar, chairman - email
Questions About the Book: Contact Mark Miner, Forged in Steel co-author and publisher - email
More About LSBC: LSBC works to equip Beaver County's organizational leaders with practical biblical principles they can apply in their work and workplace at a time when the region's economy is poised for its greatest expansion in a generation. - more>>>